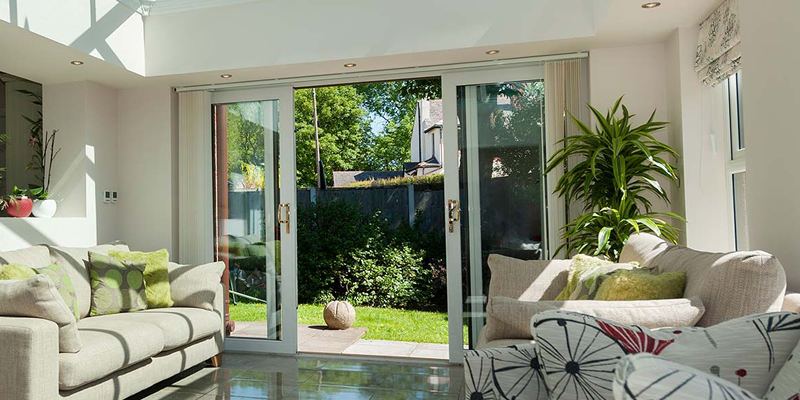 Patio doors and front entry doors often get replaced at the same time as windows around the house. But whereas an entry door is often made from a combination wood and steel, the manufacturing and functions of your patio doors are almost identical to that of your windows.
There are several reasons why people opt for new patio doors, or even expanding an existing opening into a sliding door. Obviously one of the main reasons is the unobstructed view and additional daylight that these doors provide. Another convenient feature is that these doors are easy to operate and slide. Most of us go out onto the backyard with our hands full, whether it is a marinated steak or some gardening tools. When the patio door is properly installed it can be slid opened with a light push. Of course some people may see this as a detriment to security, but as you will see further down, there are plenty of features in modern patio doors that prevent a break-in into your home.
STANDARD PATIO DOOR SIZES
Patio doors generally come in several standard sizes, based on the width of the opening. If you are replacing an old patio door with a new one, chances are, your opening is already ready to accommodate a standard 5 or 6 wide door. If you are looking to create or enlarge an opening, the job often requires walls to be cut, which can add significantly to the cost of your replacement. In the interest of the client's budget and completing the work efficiently, most window companies will recommend that the patio door you get is the same size as your existing ones.
Standard patio door sizes are as follows:
| Width (inches) | Height (inches) |
| --- | --- |
| 59 1/2 | 79 1/2 |
| 58 1/2 | 79 1/2 |
| 59 1/2 | 81 1/2 |
| 59 1/2 | 95 1/2 |
| 71 1/2 | 79 1/2 |
| 71 1/2 | 81 1/2 |
| 71 1/2 | 95 1/2 |
| 70 1/2 | 79 1/2 |
| 95 1/2 | 79 1/2 |
| 95 1/2 | 81 1/2 |
| 95 1/2 | 95 1/2 |
PATIO DOORS SECURITY FEATURES
Traditionally patio doors had one big flaw: they didn't offer much in terms of security. Of course, with a glass door you not only run the risk of a quick break-in, but a potential can also see whether anyone is at home or even the room they're going to target. Old patio doors were also easy to pop off the track.
As the window industry in North America began adapting and advancing the vinyl technology, a lot of smart features got invented and put in place into patio doors as well.
Today, any patio door can come with one or several of these additional security features:
Key Lock:
All of these features are designed to maximize the safety of your new door without sacrificing any of the functionality or sacrificing the views.
WHAT ARE THE MAIN BENEFITS OF PATIO DOORS?
Patio doors provide you with a full view of your garden or patio and can give older rooms a refreshing new look.
Depending on which style you choose, you may be able to customise the ratio of framing material to glass, which can result in some highly bespoke designs.
Patio doors are fantastic for hosting events, too – no longer must your guests shuffle awkwardly at the single door leading out of the kitchen or utility room. Instead, patio doors will allow you to extend your event space into the garden, whilst making access to the house simple and easy.
There are five areas which must be covered when installing new patio doors.
Thermal Heat Loss
Patio doors must adhere to the U-Value rules attributed to them by the government's planning regulations scheme. You can find specific values for the type of work you're planning here.
Safety Glazing
In addition to meeting thermal insulation regulations, patio door glass must feature safety glazing.
Ventilation
All rooms must be ventilated sufficiently in order to allow for optimum airflow. If your patio doors open onto a garden, ventilation systems such as "trickle filters" may suffice.
Fire Safety
If your patio doors are close to the boundary between your property and your neighbours, pay careful attention to the fire-resistance qualities they offer.In terms of providing a means of escape, patio doors should always meet the criteria. However, if they're paired with a window, the cill height should be no more than 1.1m above the floor. It's a legal requirement that you should have at least one escape window in each room of your property.
Access to buildings
If your home was built after 1999, you must make sure to keep the threshold level if the work you're carrying out is in effect exchanging doors to the property's main entrance. Failing to do so will mean the work being undertaken won't pass Building requirements.